Hello and welcome to Signavios first ever worldwide Scavenger Hunt
We invite you to join us in this crazy adventure to raise 50.000.000 points. Can you do this as #oneglobalteam? (Spoiler-alert: We think you can!)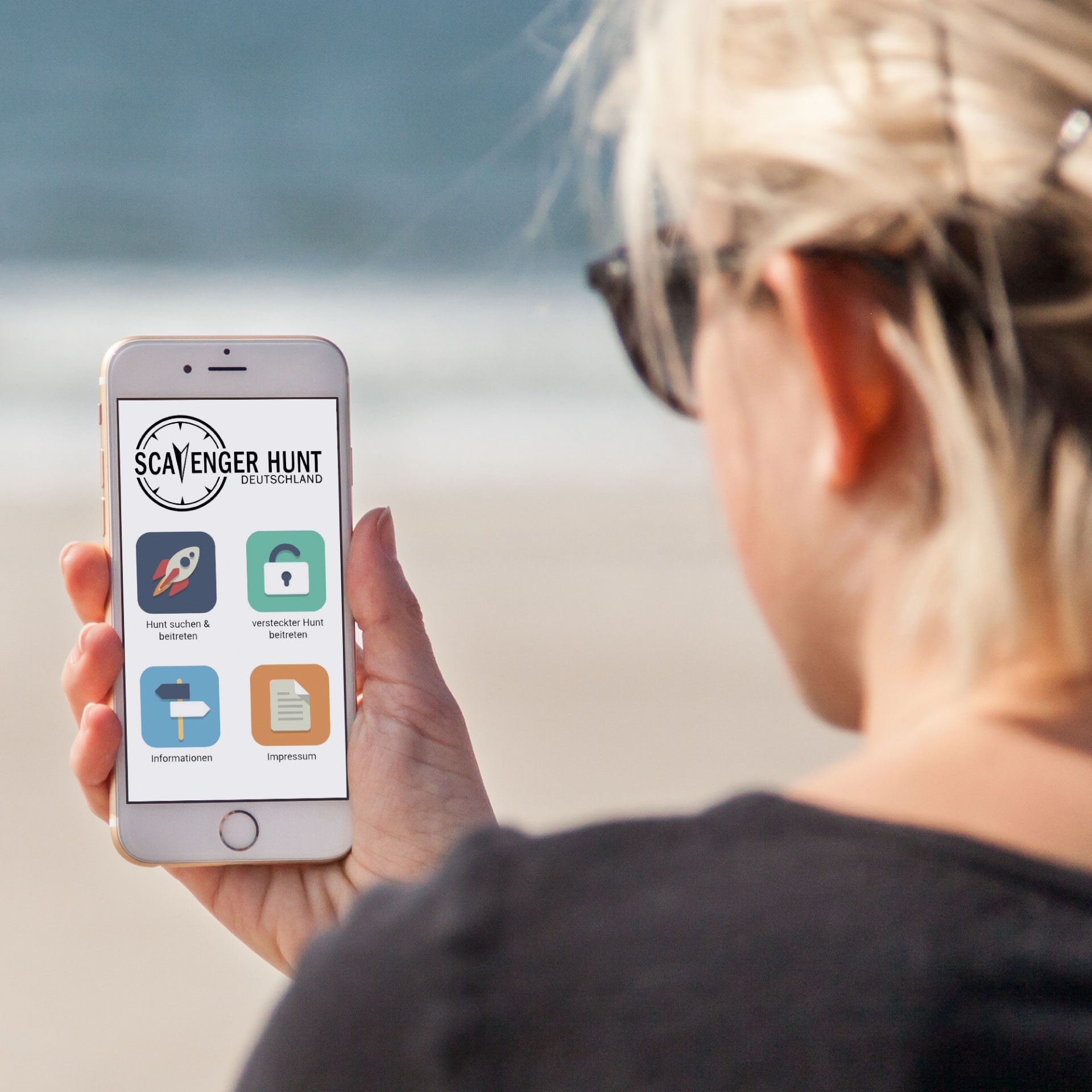 What kinds of adventures will be waiting you? Go ahead and download the app to see for yourself! You will have to solve riddles, draw, give insights into your jobs, spend quality time to together, look into the future, show off your talents and much more. Together with your teammates you will gather points while solving challenges.
Here's a breakdown how it works:
First: Get together with your teammates (via mail, video chat, WhatsApp, …) and decide on a team name and who your team captain will be. He or she will create a team in our app. With the password you got from your team captain you can then join your team.
Then: Read all the challenges available. If you prefer, you can download this PDF document for printing and easier reading. Together you decide the best strategy to tackle the challenges and gather the most points possible. Some challenges have to be completed by your whole team. Others can be assigned to different team members. Time to get to know your team members, as well as their respective strengths: Who is best at solving riddles? Who is the most creative? How will you split the tasks?
Battleplan: Got an overview of the different challenges? Great! Time to get to work then! You've got until Friday to gather as much points as you can. But careful: A lot of challenges require you to work together, to meet via video chat or to take group pictures (screenshots of your video chats). So plan accordingly! Please try your best to find a way to do these tasks together, since it is much more fun and rewarding! We know however, that a lot of you are in different time zones. So if it isn't possible to meet with your whole team, we will of course make an exception!
Coordination: In order to keep track of all the tasks you solved and also the ones you plan to solve, a lot of coordination is necessary. We recommend using a chat program or tool to keep in touch with your teammates and formulate the perfect strategy to collect as much points as possible. We also encourage you to select one team member as team captain. He or she should be responsible for creating your team and uploading all of your solutions to avoid confusion! Because once a task is submitted, it cant be taken back! 😉
All information at a glance:
Period: 5 days (13.07. – 17.07.2020)
40 tasks can (but don't have to!) be solved.
Participants: All of you. In small groups of 5!
Registration via our app, that you can download for free from the App- or Playstore.
Appname: Scavenger Hunt DE
Any questions? Please contact Support@ScavengerHunt.de
The Scavenger Hunt app is available for iOS and Android devices. Click the pictures to download it:
To join select "hidden hunt" and enter this code:
108.lUJrova9gDFIWZDYgHB4OowN9dAd7plJLSXJIiOVOEA
16. Van Gogh riddle
Via Google Arts & Culture you had to visit the Van Gogh Museum in Amsterdam for this task. On the second floor you can find this diagram of his family members on a wall.
Next, you should notice that in the texts in which we described his family members, there are two numbers in each case. An example:
Willemien "Wil" van Gogh was Vincent's youngest sister. She was three years younger than her sister Lies. Wil was an early feminist and very close with her brother. The two wrote each other frequently.
If you now look at the (English) texts on the wall in the museum, you can derive the solution from them: The numbers indicate (in the order they appear in the text) the Xth word and the Xth letter of this word. In the example of "Wil" van Gogh, the third word is "dear" and the second letter is the "e".
Decoded this way the picture we are looking for is "Dr. Gachet".
29. Riddle me this
All persons in the list have an initial in their name. If you assign the first names to the surnames, there are 3 letters on each line. If you sort the names (and the corresponding 3 letters) alphabetically (beginning with George A. Romero and ending with Theodor W. Adorno), the solution results from the packages of 3 letters. If they are in the correct (i.e. alphabetical) order, the left column shows "SolutionLookRight", the right column shows "LookFurtherToLeft". In the middle column you find the solution: "Matthias G. Allgaier".
30. What..?!
The questions in the first list give a number in a language of the second list as a solution. If you have found out all the numbers and know which language it is, you can write down the numbers in the order of the second list. If there is a + in between, two numbers are added. If you then search for the respective letter in the alphabet, you will get the word "TaifunTofu". The notes of the first list are mixed up. The order of the second list (languages) is relevant. Example: "20 (hot)/24 (cold) oz. cup at Starbucks" = Venti (Asturian for 20) / "a brand of card game by Mattel" = UNO (Spanish for 1) –> 20 + 1 = 21 –> The 21st letter in the alphabet = U)
What can you expect?
Race to 50 is a challenge for all employees of Signavio to work together to obtain 50 Million points. You have 5 days to solve a number of challenges and earn these points. You will be divided into teams of 5. To solve a challenge, you have to work with your teammates and take a photo or video of your solution, that will be uploaded via our "Scavenger Hunt DE" App. All submissions are reviewed by our highly professional and incorruptible jury.
You have to solve riddles, draw pictures, give insights into your jobs, spend quality time together, look into the future, show off your talents and much more. Our varied mix of tasks guarantees that there will be fun challenges for your liking too! If you encounter a challenge that you don't want to do or you feel like you cannot solve, just skip the challenge and choose a different one. There are no mandatory tasks and the tasks don't have to be solved in a particular order – just choose a challenge from the long list and get started. Of course, you have to work together with your teammates to find the best possible solutions for each challenge. Creativity, thinking outside the box and that little bit of extra effort are always rewarded with bonus points. So simply solving every task might not always ensure you the win.
If there are any questions left, have a look at our F.A.Q. or contact us directly at Support@ScavengerHunt.de
Here is an example from another event. The task was to recreate a scene from any Disney movie as detailed as possible. The team "Trash Pandaaas" surprised us with the famous scene from Lady and the Tramp. We are still thrilled! It goes without saying, that this video earned them loads and loads of bonus points! 😉
For which operating systems is the app available?
The app currently runs on iOS (from version 8), as well as on Android.
How does the registration work?
When you start the app for the first time, you can click the little flag to switch to the english version. Afterwards you click "join hidden hunt" and entder this code. This will start the registration process. Here you will also see the terms and conditions of participation and the rules of the Hunt – read them carefully (don't worry, you can always view them again later). After that, enter your name and your e-mail address (which will not be checked. So feel free to enter exaple@scavengerhunt.de or something like that). If you also want to set a password, you can use your Scavenger Hunt account for other hunts – but you don't have to! 😉 After that you have two options: Either join an existing team or create a new one. If you want to create a new team, you have to set up a team name and a password which you can give to other team members. If you want to join a team, select the team and enter the password you received from the creator of your team. Now it's time to get started! Below the F.A.Q. you will find some screenshots of the registration process.
What can you win?
The top 3 teams can select a charity or NGO of their choice. Signavio will make a donation to these organizations on behalf of these teams.
How does the game work?
On Monday, 13.07.2020, the tasks in the app will be unlocked at around 10 am. Teams can then start solving the tasks. To do so, take pictures or short videos of your solutions and upload them to the app. Tasks you have already completed will be marked yellow, tasks we have scored will be marked green. This way you always have a complete overview. Of course, you can hide the tasks you have already completed, apply filters, mark tasks as a favorite and use the search function to keep track of your progress. But beware: once a task has been sent, it cannot be changed! So be sure to coordinate well! In the menu you always have an overview and can see the position of your team in the ranking – but without the score. Only the tasks that we have rated are counted there, so don't be surprised that your position won't change immediately after you complete 10 tasks 😉. And in five days we'll see which team collected the most points – and which team won the first prize! We'll keep our fingers crossed for you!
Do I need an internet connection to play?
No, a permanent Internet connection is not necessary. Once you have downloaded the questions and tasks, you can also play "offline". You can upload your solutions to the tasks whenever you want. If you are on the road, you can take pictures or videos with your mobile camera. Afterwards you can drive home in peace and log into the wifi before you submit your tasks. This ensures that you do not have to use mobile data.
What kind of data is stored?
We only store the information that you approve for us. On the one hand, this is the information from the registration of your team – i.e. the names and contact email addresses of your team members. On the other hand we save the pictures and videos you submit as solutions to the tasks. But ONLY if you agree to it. You can revoke this agreement with every task you submit. In this case we will use your photos and videos for the evaluation only and delete them afterwards. So no data will be stored, if you don't want it to be! All data that we collect or process will remain in Germany at all times and will be stored on servers in the Rhein Main area. The servers are also powered by electricity from renewable energy sources. Your names and e-mail addresses will of course not be passed on or sold by us. The only exception is if your team has won one of the prizes. In this case, we will pass on your contact details to our client so that you can receive your prize. All such data will be deleted three months after the event. You can view the detailed conditions of participation as well as the privacy policy at any time in the app!
This is how you register a team in our app. Please note: Since "Race to 50" is a hidden Scavenger Hunt, you have to skip the first step in this video. Instead you click on "join hidden hunt" and enter this code
When starting the app, click the flag to switch to english version…
…next, you must agree to the terms and conditions and the rules. Read them both carefully!
After that you have to enter your name & email address. You don't need a password.
Finally, you either select an existing team or create a new team. That's it. Let's go!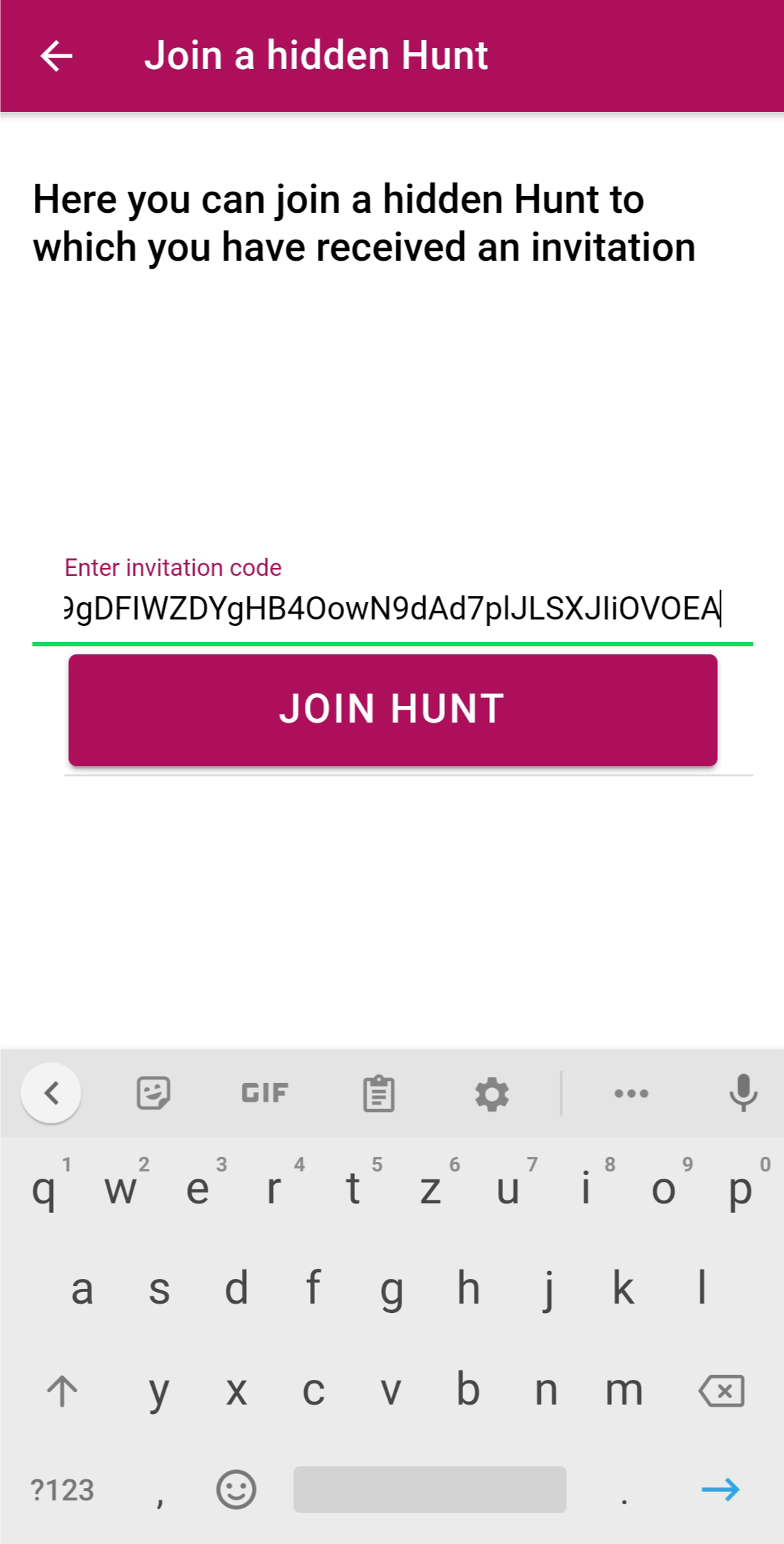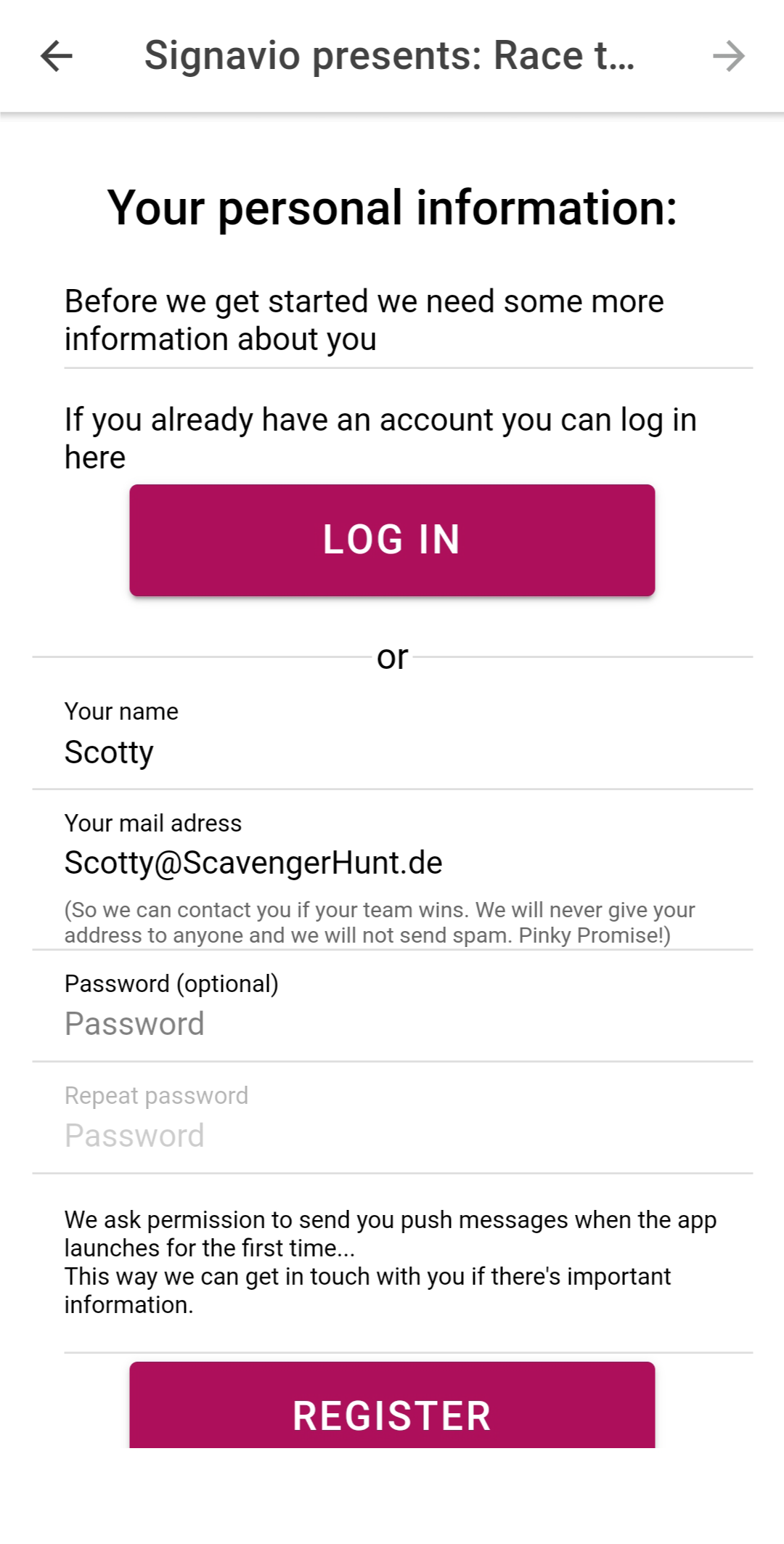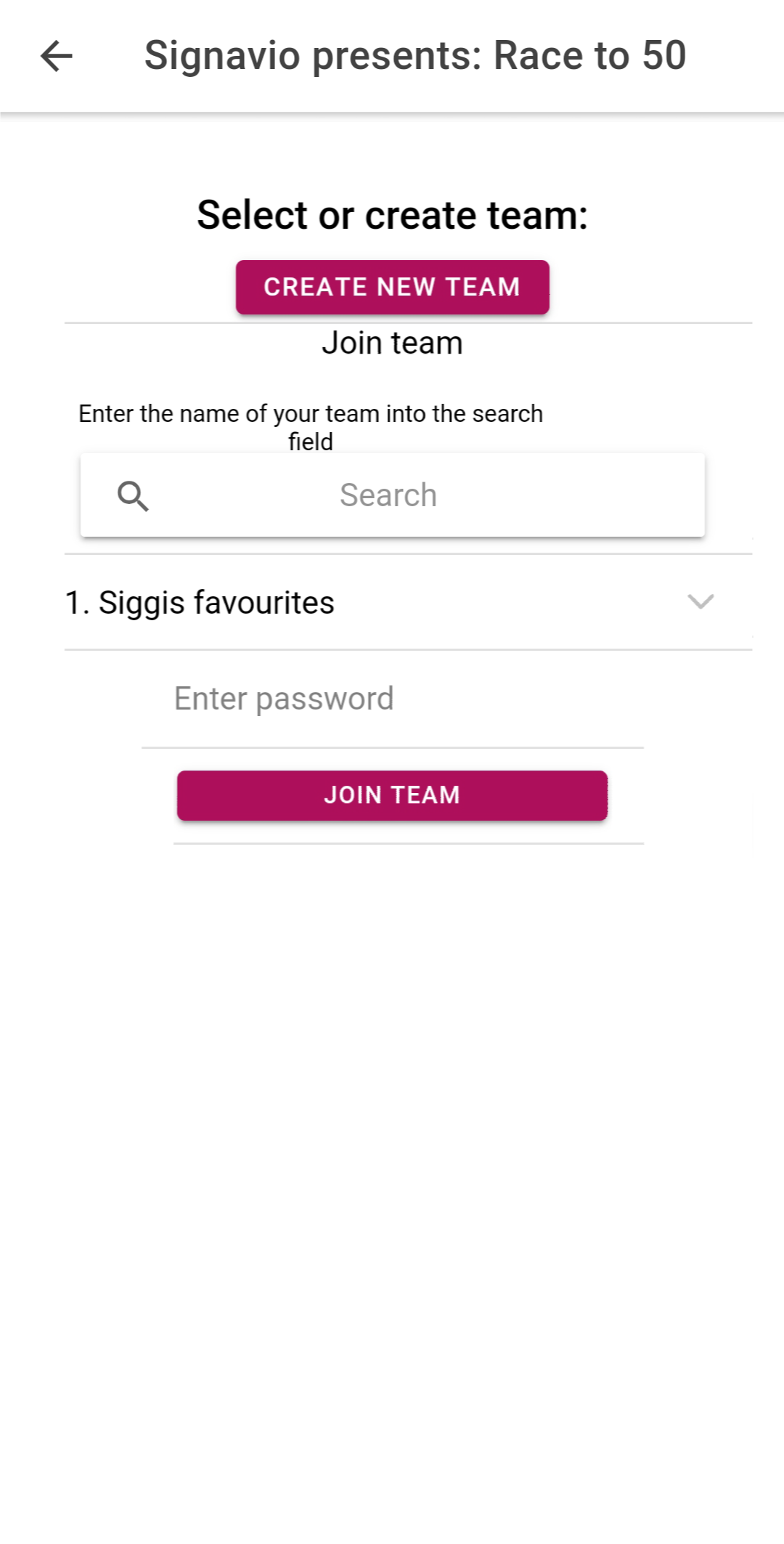 When starting the app, click the flag to switch to english version…                          
…next, you must agree to the terms and conditions and the rules. Read them both carefully!
After that you have to enter your name & email address. You don't need a password.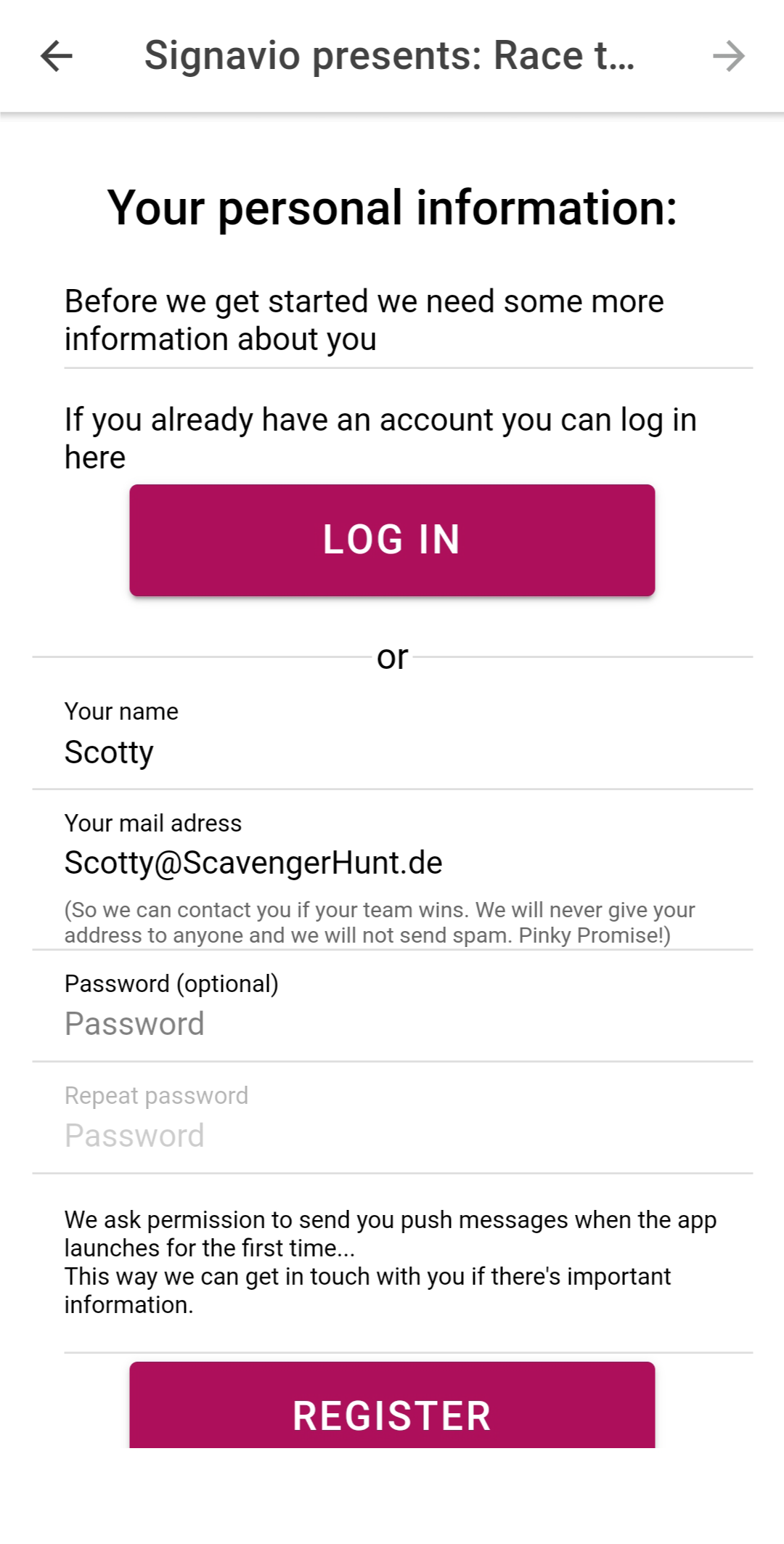 Finally, you either select an existing team or create a new team. That's it. Let's go!